Installation and adjustment
In pursuit of optimal operation, during installation the control lever for valve location should be installed on top (most ideal) or side of the conveying line. The sealing of valve is realized via the superimposition between valve disk and valve seat. Therefore, the valve support should be independent of the conveying line and not withstand force from pipeline devices. In addition, measures should be taken to prevent the expansion of pipelines for heating from applying force on the valve.
The installation of changeover valve should be able to prevent air pressure in valve closing branch from
acting on the sealing surface of valve disk, as shown in the figure.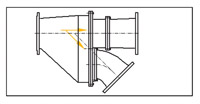 Operation and application:
The transposition of valve disk should be carried out on condition that the system stops operation (no pressure), however, the valve should not be manipulated as the system is conveying materials, because:
(1)The valve disk is under pipeline pressure, the wear will accelerate if the valve disk is moved under load;
(2)Movement of the valve disk under load will produce a load higher than normal torque causing failure of the valve disk to operate normally;
(3)If transposition of the valve disk is performed during conveyance of materials by the system, the accumulation of materials will be created due to loss of pressure in some pipeline of the valve. As a result, abnormalities such as pipe jam, pressure fluctuation and overload of air compressor, etc. will be caused when this pipeline is enabled once more next time. Before transposition of the valve disk the conveying pipe should be cleared up and blown off. When transposition is made by manipulating the valve after stop of the system, it is quite favorable to rotate the control lever for valve location for several times first, and then to transpose the valve disk to required position, in such way the valve seat is cleaned and the life of valve is extended as well.
During outage of conveying system, rotating the control lever for valve location is in favor of removing accumulating contaminants such as dust and condensed water, etc. so as to prolong the life of valve seat. 。
Automatic opening and closing of the pneumatic changeover valve are accomplished by valve used pneumatic device (cylinder). After power source and air source are connected, the cylinder drives transposition of valve core to make the valve stop at proper location.